About Us
Max's is a Grill takeaway in London. Why don't you try our Pepperoni Max Out or Double Cheeseburger?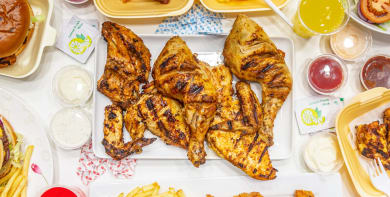 Reviews
248 reviews
Joy
"The food is always delivered hot. It is well cooked and tasty. My notes are always followed. Any queries have been dealt with promptly and resolved. Thank You"
13/05/2021
Firdosa
"Excellent fast delivery, of hot delicious food!"
06/05/2021
Sawdah
"The pizza was amazing thank u so muchhh"
18/03/2021
ivon
"The wings were really nice but they were cold by the time they arrived"
12/03/2021
Menu
Corn Special
BBQ
Cheese
Maxican Chilli
Curry
Sour Cream
& Onion
£1.99
8 Pcs Chilli Cheese Bites
£3.99
8 Pcs Jalapeno Cream Cheese
£3.99
Nachos with Jalapenos & Cheese
£3.99
Chicken Fillet Burger Single
Whole breast fillet in classic recipe of spicy coating
£4.49
Chicken Fillet Burger Double
Whole breast fillet in classic recipe of spicy coating
£5.99
Supreme or Ringer
Whole breast fillet with cheese and hash browns or onion rings
£5.49
Veggie or Fish Burger
Fish or veggie burger in classic recipe coating
£3.99
Strips or Cheese Burger
2 strips or chicken in classic recipe coating/classic cheese burger
£3.99
Quarter or Half Pounder Max's Classic Quarter
Max's Classic Quarter or Ultimate Half Pounder with Cheese
£4.99
Quarter or Half Pounder Ultimate Half Pounder with Cheese
Max's Classic Quarter or Ultimate Half Pounder with Cheese
£5.99
Max's Classic Chicken 2pcs
£4.49
Max's Classic Chicken 3pcs
£5.49
Chicken & Wings Combo 1pc
1 or 2 Pcs of Chicken in Classic Recipe Coating, 3 Spicy Wings with Reg Fries & Can of Drink
£4.49
Chicken & Wings Combo 2pcs
1 or 2 Pcs of Chicken in Classic Recipe Coating, 3 Spicy Wings with Reg Fries & Can of Drink
£5.49
Max's Wings or Strip 6pcs Chicken Wings
Chicken Wings or Strips with Reg Fries & Can of Drink
£4.49
Max's Wings or Strip 6pcs Strips
Chicken Wings or Strips with Reg Fries & Can of Drink
£4.49
Nuggets or Poppers Chicken Nuggets
Chicken Nuggets or Popcorns with Reg Fries & Can of Drink
£3.99
Nuggets or Poppers Popcorns
Chicken Nuggets or Popcorns with Reg Fries & Can of Drink
£3.99
Spicy Fillet Burger Single
£4.99
Spicy Fillet Burger Double
£5.99
Chicken Offer
6pcs Chicken, 3 Reg Fries & Bottle of Drink
£10.99
Boneless
8 Strips, 12 Chicken Nuggets, 4 Reg Fries & Bottle of Drink
£12.99
Fillet Offer
2pcs Boneless Fillet
£4.99
Dessert Lover
9" Pizza, 4 Wings, Haagen Dazs & Can of Drink
£17.99
Vegi Lovers
4 Mozzarella
4 Jalapeno Cream
Cheese, 4 Onion Rings, 
Chips & Can of Drink
£6.99
BBQ Ribs or Wings
4pc Lamb Ribs or 8pcs BBQ Wings, Chips & Can of Drink
£5.99
Lamb Donner Kebab with Pitta
£4.99
Lamb or Chicken Seekh Kebab Roll
£4.99
Peri Peri Joined Wings (6pcs)
£5.99
2 x Whole Peri Peri Chicken
£16.99
Peri Peri Double Chicken Burger
£5.99
Peri Peri Fries (With Peri Powder)
£1.99
6 Peri Peri Joined Wings Meal
£6.99
Peri Peri Burger Meal Single
£4.99
Peri Peri Burger Meal Double
£6.99
Quarter Peri Peri Chicken Meal
£4.99
Half Peri Peri Chicken Meal
£6.99
Whole Peri Peri Chicken Meal
4 wings, 2 fries & bottle of drink
£14.99
Mixed Salad
Cucumber, lettuce, tomatoes & sweetcorn
£2.49
Hot Special Salad
Lettuce, tomatoes, turkey ham, sweetcorn & cheese
£3.99
Green Salad
Cucumber, lettuce & tomatoes
£2.49
Tuna Salad
Tuna, cucumber, mixed peppers, lettuce, green olives & tomatoes
£2.49
Haagen Dazs 500ml Belgian Chocolate
£5.99
Haagen Dazs 500ml Cookies & Cream
£5.99
Haagen Dazs 500ml Pralines & Cream
£5.99
Haagen Dazs 500ml Strawberry Cheesecake
£5.99
Haagen Dazs 500ml Strawberry Cream
£5.99
Haagen Dazs 500ml Vanilla
£5.99
Ben & Jerry's 500ml Brownies
£5.99
Ben & Jerry's 500ml Cookie Dough
£5.99
Red Bull Energy Drink 250ml
£1.99
Can of Monster Energy 500ml
£2.00
Can of Monster Mango Loco 500ml
£2.00
Bottle 1.5ltr Orange Tango
£1.99
Chicken Bucket Offer
10pcs Chicken, 6 Wings
4 Reg Fries & Bottle of Drink
£16.99
Chicken Bucket Offer 2
12pcs Chciken, 8 Wings
6 Reg Fries & Bottle of Drink
£19.99
Chicken Bucket Offer 3
30 Wings, 4 Reg Fries
& Bottle of Drink
£15.99
Chicken Bucket Offer 4
6pcs Chicken, 2 Chicken Burger, 3 Fries & Bottle of Drink
£14.99
Chocolate Bar Dark Chocolate
£4.99
Contact Us
Find Us
280 Barking Road, London, E138HR
We deliver to
E12, E13, E14, E15, E16, E20, E3, E6, E7