About Us
Max's is a Grill takeaway in London. Why don't you try our Pepperoni Max Out or Double Cheeseburger?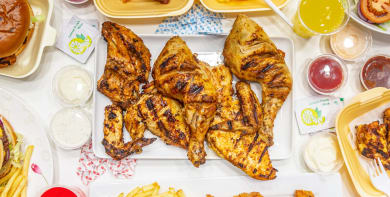 Reviews
296 reviews
Sawdah
"The pizza was amazing thank u so muchhh"
18/03/2021
ivon
"The wings were really nice but they were cold by the time they arrived"
12/03/2021
paige
"Best food best delivery best price"
07/03/2021
Rasheda
"Great food - have been ordering from Max's for some time now and they have never let me down with their pizza."
27/01/2021
Menu
Chocolate Bar Dark Chocolate
£4.99
6 Peri Peri Joined Wings Meal
£6.99
Peri Peri Burger Meal Single
£4.99
Peri Peri Burger Meal Double
£6.99
Quarter Peri Peri Chicken Meal
£4.99
Half Peri Peri Chicken Meal
£6.99
Whole Peri Peri Chicken Meal
4 wings, 2 fries & bottle of drink
£14.99
8 Pcs Chilli Cheese Bites
£3.99
8 Pcs Jalapeno Cream Cheese
£3.99
Nachos with Jalapenos & Cheese
£3.99
Mixed Salad
Cucumber, lettuce, tomatoes & sweetcorn
£2.49
Hot Special Salad
Lettuce, tomatoes, turkey ham, sweetcorn & cheese
£3.99
Green Salad
Cucumber, lettuce & tomatoes
£2.49
Tuna Salad
Tuna, cucumber, mixed peppers, lettuce, green olives & tomatoes
£2.49
Lamb Donner Kebab with Pitta
£4.99
Lamb or Chicken Seekh Kebab Roll
£4.99
Peri Peri Joined Wings (6pcs)
£5.99
2 x Whole Peri Peri Chicken
£16.99
Peri Peri Double Chicken Burger
£5.99
Peri Peri Fries (With Peri Powder)
£1.99
Haagen Dazs 500ml Vanilla
£5.99
Haagen Dazs 500ml Pralines & Cream
£5.99
Haagen Dazs 500ml Strawberry Cheesecake
£5.99
Haagen Dazs 500ml Cookies & Cream
£5.99
Haagen Dazs 500ml Strawberry Cream
£5.99
Haagen Dazs 500ml Belgian Chocolate
£5.99
Ben & Jerry's 500ml Cookie Dough
£5.99
Ben & Jerry's 500ml Brownies
£5.99
Red Bull Energy Drink 250ml
£1.99
Bottle 1.5ltr Orange Tango
£1.99
Can of Monster Energy 500ml
£2.00
Can of Monster Mango Loco 500ml
£2.00
Chicken Bucket Offer
10pcs Chicken, 6 Wings
4 Reg Fries & Bottle of Drink
£16.99
Chicken Bucket Offer 2
12pcs Chciken, 8 Wings
6 Reg Fries & Bottle of Drink
£19.99
Chicken Bucket Offer 3
30 Wings, 4 Reg Fries
& Bottle of Drink
£15.99
Chicken Bucket Offer 4
6pcs Chicken, 2 Chicken Burger, 3 Fries & Bottle of Drink
£14.99
Chicken Fillet Burger Single
Whole breast fillet in classic recipe of spicy coating
£4.49
Chicken Fillet Burger Double
Whole breast fillet in classic recipe of spicy coating
£5.99
Supreme or Ringer
Whole breast fillet with cheese and hash browns or onion rings
£5.49
Veggie or Fish Burger
Fish or veggie burger in classic recipe coating
£3.99
Strips or Cheese Burger
2 strips or chicken in classic recipe coating/classic cheese burger
£3.99
Quarter or Half Pounder Max's Classic Quarter
Max's Classic Quarter or Ultimate Half Pounder with Cheese
£4.99
Quarter or Half Pounder Ultimate Half Pounder with Cheese
Max's Classic Quarter or Ultimate Half Pounder with Cheese
£5.99
Max's Classic Chicken 2pcs
£4.49
Max's Classic Chicken 3pcs
£5.49
Chicken & Wings Combo 1pc
1 or 2 Pcs of Chicken in Classic Recipe Coating, 3 Spicy Wings with Reg Fries & Can of Drink
£4.49
Chicken & Wings Combo 2pcs
1 or 2 Pcs of Chicken in Classic Recipe Coating, 3 Spicy Wings with Reg Fries & Can of Drink
£5.49
Max's Wings or Strip 6pcs Chicken Wings
Chicken Wings or Strips with Reg Fries & Can of Drink
£4.49
Max's Wings or Strip 6pcs Strips
Chicken Wings or Strips with Reg Fries & Can of Drink
£4.49
Nuggets or Poppers Chicken Nuggets
Chicken Nuggets or Popcorns with Reg Fries & Can of Drink
£3.99
Nuggets or Poppers Popcorns
Chicken Nuggets or Popcorns with Reg Fries & Can of Drink
£3.99
Spicy Fillet Burger Single
£4.99
Spicy Fillet Burger Double
£5.99
Chicken Offer
6pcs Chicken, 3 Reg Fries & Bottle of Drink
£10.99
Boneless
8 Strips, 12 Chicken Nuggets, 4 Reg Fries & Bottle of Drink
£12.99
Fillet Offer
2pcs Boneless Fillet
£4.99
Dessert Lover
9" Pizza, 4 Wings, Haagen Dazs & Can of Drink
£17.99
Vegi Lovers
4 Mozzarella
4 Jalapeno Cream
Cheese, 4 Onion Rings, 
Chips & Can of Drink
£6.99
BBQ Ribs or Wings
4pc Lamb Ribs or 8pcs BBQ Wings, Chips & Can of Drink
£5.99
Corn Special
BBQ
Cheese
Maxican Chilli
Curry
Sour Cream
& Onion
£1.99
Contact Us
Find Us
280 Barking Road, London, E138HR
We deliver to
E12, E13, E14, E15, E16, E3, E6, E7